Area C
Area C will have a sculpted landscape with hills, ponds and parks with clusters of dense residential housing, predominantly targeted at young families. The closeness to public transport, institutions, the city centre and surrounding neighbourhoods makes it suitable for people with active lives who like a balance between vibrant urban facilities and a tranquil natural setting. The overall appearance of the area will be one of a diverse human sale dense neighbourhood with an abundance of high quality green spaces.
The coast protection zone in area C will be constructed as a concrete and stone boulder revetment wall on top of which will be a concrete walkway and a paralleled timber deck. Behind the seawall the landscape drops into large ponds that have a dual function – overflow basins for any water that may overflow the seawall and buffer zone towards the Natura 2000, creating a habitat for the birds on the shoreline.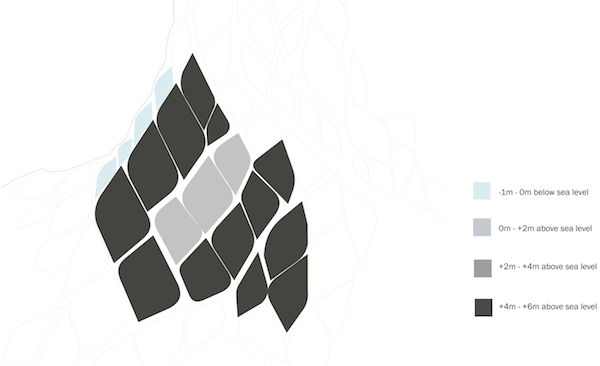 BUILDING
Building materials in area C will be simple ones that respond well to the natural coastline setting. Generally natural exposed surfaces will be used that over times acquire a natural look and become one with the surroundings. Wall surfaces will be predominantly timber cladding in natural or grey tones. A small portion of the façade can be exposed concrete.