Eco concept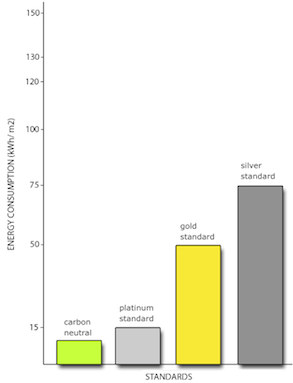 Ecobay will be a compact city, clustering the buildings together in concentrated neighbourhoods leaving large areas free for nature. The closeness will create shelter against the elements and make an ideal habitat for a community-based society defining the city as a place that allows people to meet and interact.
We offer a planning that besides creating a city atmosphere also knowingly takes advantage of the closeness of nature.
We propose to use the rare opportunity to create a natural habitat close to the city centre by extending the Natura 2000 landscape over our site to create a balanced ecosystem on the landfill site and connecting the green belt circumscribing the greater Tallinn area.
The site occupies an area of Tallinn which is partly raised seabed and partly landfill, a new part of the city which connects what used to be two islands with the mainland.
Even though the Ecobay site currently occupies an area of Tallinn which today represents a post-industrial landscape, we anticipate that the area will become engulfed by the expansion of Tallinn within the next few decades, gradually becoming an integrated part of the Tallinn urban area.
We propose a part of city with equal emphasis on the city and the landscape; Ecobay will become an urban village or a garden city within the city.
The context of the site today is a patchwork of untouched natural environment representing the original character of the landscape around Tallinn, the fringe city of late and mid 20th century Tallinn and post industrial landscape of what used to be heavy seaport industry.
We will use the character of the individual parts of this patchwork to make three neighbourhoods with distinct different character. We believe this is vital to give a greater sense of belonging to the residents as well as a more varied experience to the visitor.
The sustainability guidelines for Ecobay have been developed using best practice, local and international standards and aspirational targets for the development. Passive solar design has influenced the master plan layouts to ensure the most efficient benefits to be gained from simple site layout.
The lowest class of sustainability for the site would be 'Bronze' which includes overall energy standards better than the 'A' Class specified in Estonian Building regulations, lower water usage technologies and the incorporation of green recycled materials.
A comparison of the standards to be used at the site is shown in the table below.